ISGC Homestay Accommodation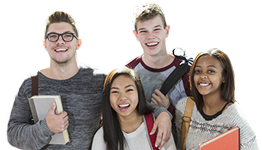 A Real Canadian Experience
One of the most valuable and unique experiences an international student can have is to live with a Canadian family. Our homestay program provides a safe and friendly environment within a community in Canada. Students enjoy life with a Canadian Family and experience Canadian culture in all its diversity. Many students find homestay accommodation an excellent way of improving their English skills and integrate into a new environment.
For more information on HOMESTAY
Matching Students with Great Families
We have a rigorous process for evaluating and maintaining high quality families that love to host international students in their homes. All of our host families are visited on a regular basis and are screened thoroughly. We require our families to have insurance coverage and annual police background checks for the comfort and peace of mind of our students and parents.
Short Term and Long Term Accommodation
We provide long term homestay accommodation for students attending private day and public schools. We also offer short term placement for students in private boarding schools that require accommodation for Canadian holidays and other school closures.
What does an ISGC Homestay provide?
Accommodation with an approved Canadian Family
24-hour adult supervision (including curfews and house rules)
24-hour ISGC Emergency number
3 balanced meals per day + snacks
English speaking environment
Private room (bed, linens, closet, desk)
Access to internet
Access to local public transportation
Family home will be close to amenities (shopping, library, theatres)
Host family interaction and support
Want to become an ISGC host family?
Understanding Your Needs
Finding the right host family to match your needs is very important to us. We want to know as much about you (what you like to eat, if you like pets, what activities you like, etc.) as we know about our host families (what activities do they like, what their family is like, and more). Once we gather all this important information we can work to pair you with a good family and do our best to match your preferences.
Homestay Diversity & Quality
Canadian families come in many types, sizes and personalities and we are working consistently to find new hosts that offer great environments and meet our very high standards. We meet all of our host families face-to-face, inspect their home, and gather information on their lifestyles, professions and hobbies. All ISGC host families are required to provide police background checks. We are interested in host families that want to enrich their family's life by bringing an international student into their home. Once we have approved a host family, we continue to monitor them and obtain feedback from students on their experience. We believe our in-depth vetting and review process has created a high quality and successful homestay program.